Custom Laser Engraving Service
Sign Design offers impeccable laser engraving services in the industry. We engrave, etch or mark on many products including acrylic, aluminum, Corian, glass, steel, stone, marble, granite, wood and many more Maximum engraving area is 29″ w.  x 18″ h. x 10mm d. We provide fast and simple methods to permanently mark various metals using laser power to make high contrast, high resolutions mark. We can mark or etch stainless steel, carbide, chrome, brass, copper & pewter along with several other metals. Coated as well as painted metals have always been quickly engraved with our laser systems, provided there is a contrast in colour between the outer and underneath colours Anodized aluminum products have always been a popular material with regard to laser engraving because the laser bleaches the colour, creating an attractive contrasted mark, without interfering with the anodization process.
The marks produced are in many cases harder than the material itself and can improve the structural durability of the metal surface.
Laser marked details are not affected by chemicals, cleaners, solvent or salt water spray.
The technique can be very specialized and complicated, and often a computer system is used to drive the movements of the laser head. Despite the complexity, Sign Design offers very precise and sharp engravings. The technique does not require engraving/tool bits, which get in touch with the actual engraving surface and wear such surface out. This is considered an advantage over alternative engraving technologies where bit heads have to be replaced regularly.
Our laser engraving and laser etching services produce stunning final results utilizing a selection of specially-designed "laserable" materials. These include acrylic, glass, wood, aluminum, brass, steel and stainless steel.
What type of files we need from you?
If you are an expert or have a designer send us files in EPS format or in Coreldraw/ Illustrator or Freehand (Many old designers still use it).
If you cannot manage to send us files in Vector Format. Send us a JPG or BMP format of your file we will charge you to convert it into a vector format. To make it workable for laser engraving, laser cutting or Vinyl Cutting.
For Photo Engraving send us High Resolution Image. Size in pixels 1200px to 4000px.
LASER ENGRAVING APPLICATIONS
Company Logos
High-end Promotional Products
Medical Instruments
Surgical tools and equipment
Electrical covers and plates
Restaurant Supplies
Tools
wedding invitations, albums, picture frames
Gifts
Serial numbers
Lot Numbers
Production Codes
ID Matrix Codes
Barcodes
Part Numbers
Tracking Information
Electronic Devices
WHAT MATERIAL CAN BE ENGRAVED?
Sign Design offers laser engraving on many types of materials:
Acrylic
Acrylic can be engraved very beautifully. It produces a sharp, clean and frosted image. Engraved images and text messages could be colour-filled. Engraving depth can be customized to your specifications.
Corian
Corian is an artificial material. When engraved, it produces sharp and clean image. Corian is available in many colors, marble type textures and thickness. Engraved images and text messages can be colour-filled. Engraving depth can be customized to your specifications.
Woods/Natural Materials
Directly "burning" images on wood is one of our specialties. The laser power required here is often less than what it takes to cut through. Hardwoods like walnut, oak, mahogany and maple produce excellent results. Softwoods can be judiciously engraved but tend to vaporize at less-consistent depths. Hard papers and fiberboard work well; linty papers and newsprint are like softwoods. Fur is not engraveable; finished leathers though can be laser-engraved with a look very similar to hot-branding. Certain latex rubber compounds can be laser engraved; for example, these can be used to fabricate inking-stamps. When paper masking tape is used as a pre-engraving overcoat on finished and resiny woods, cleanup is a matter of picking the tape off and out of the unengraved areas, which is easier than removing the sticky and smoky surround "halos" (and requires no varnish-removing chemicals).
Plastics
Both cast and extruded acrylic can generally be laser engraved pretty well. Other plastics may be successfully engraved, but orderly experimentation on a sample piece is recommended. Expanded plastics, foams and vinyl generally are candidates for routing rather than laser engraving.
Coated metals
Coated metals can be engraved well. Laser engraving metal plates are manufactured with a finely-polished metal, coated with an enamel paint made to be "burned off".
Glass 
When a laser is used to engrave on glass, it fractures the glass surface. With the right settings, excellent results can be achieved.
Granite and Marble
Granite and marble can be laser engraved with extremely fine details. The depth of engraving can be customized to specifications. When laser hits the surface, it fractures such materials. Engraved images can be filled with paint for better contrast appearance.
Acrylic

100%

100%

Corian

90%

90%

Woods/Natural Materials

100%

100%

Plastics

100%

100%

Coated metals

97%

97%

Glass

100%

100%

Granite and Marble

95%

95%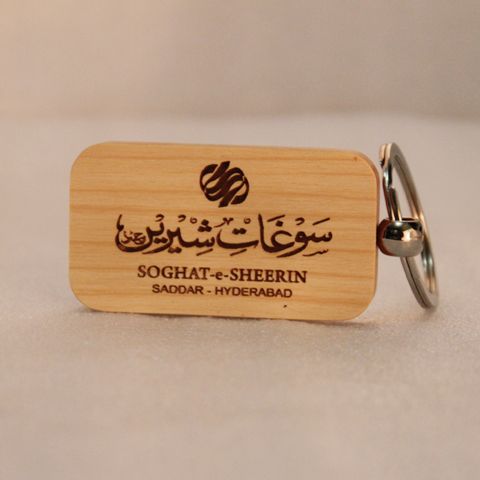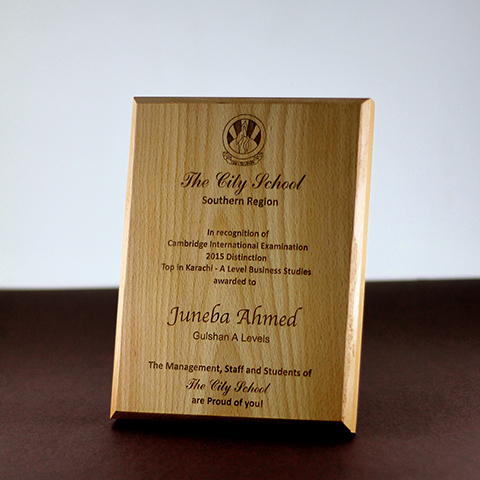 Still Confused
Let us know about your projects